Earth is a Deadname, 2022
Solo Exhibition | Gasworks, London, UK
Touring iteration at Humber Street Gallery, Hull, UK

Full Exhibition Text & Guide



Earth is a Deadname is a constellation of work that seeks to reimagine transgender experience beyond the limiting language of medicalisation, rewriting its histories into a cosmic poetics of trans sensuality, relation and desire. Comprising film, sound, stained-glass installation, sculpture and live-performance, the exhibition features collaborations with the artists Ada M. Patterson, Kari Rosenfeld and Raffia Li.

The exhibition revolves around descending notes (2022), an erotic science-fiction film that explores transness as a form of dissonance and resonance. Guided by the sonic, it takes inspiration from Donny Hathaway's heartfelt rendition of A Song for You, whose lyrics are punctuated by a discordant progression of piano notes: "If my words don't come together, listen to the melody 'cause my love is in there hiding… I love you in a place where there's no space or time."

After the end of the world when the body has no end, the film tells a cosmic love story between three transing beings whose desire unfolds across time and space, from the sensuality of early Christian sainthoods to future alien intimacies. Grounded in autobiographical experiences of tenderness, solidarity and grief within my friendships and everyday life; as the world splits apart, these undercover beings covertly learn to live in transformation and to give each other breathe.



Do you think the dead come back and watch the living?, 2022. Detail of installation. Stained glass, honey, dried flowers, cigarette butts

Lou Lou Sainsbury, descending notes, 2022. Film written and performed with Raffia Li and Ada M. Patterson. 4K Video, 17:45 min.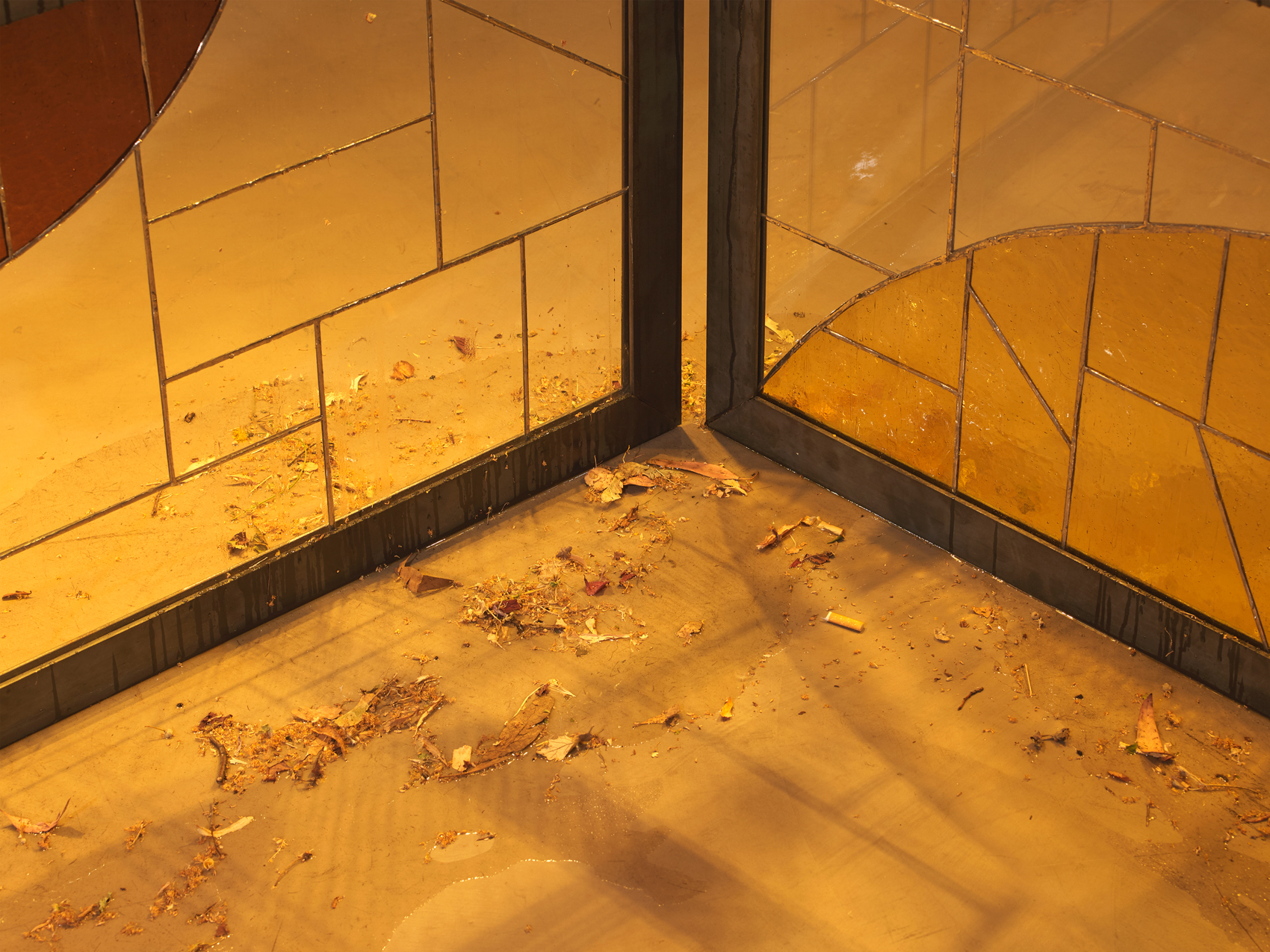 To the pain in the womb o womb womb womb fleshy womb, 2022. Antique cabinet, masking tape, alien souvenir figurine, cowboy boot lamp, oestradiol wrappers.

Lou Lou Sainsbury and Kari Rosenfeld, i keep you in my gut i keep you in my throat—are you hungry? i can feel you beating in me i can, 2022. Wax, epoxy resin, clay, soil, spray paint, gummies, quail eggs, apple core, sugar, tree bark, lichen, popcorn, plasticine, make up, jacket, crochet, steel plates.


Lou Lou Sainsbury [Nov 30, 2021 at 6:12:27 PM]: just a quick one. whats ya date of birth? im putting u as a witness for my trans form, 2022. Portrait of Lou Lou Sainsbury by Kari Rosenfeld, C-print.


Fragments of Songbook, 2022. Wax lettering on gallery walls, spray paint, variable dimensions



Solar Halo, 2022. Cymbal, twine, light, variable dimensions.

Production Credits

Side A: descending notes (2022)
A film by Lou Lou Sainsbury
Written and performed by Lou Lou Sainsbury, Raffia Li, Ada M. Patterson
Editor: Lou Lou Sainsbury
Camera: Gabi Dao, Lou Lou Sainsbury
Boom operator: Peixuan Qiu (Maoyi)
Production assistant: Ioana Lupascu
Lighting: Marika Vandekraats
Sound design: Lou Lou Sainsbury



Side B: The Law of Desire is Fascist (2022) Poem written and recorded by Lou Lou Sainsbury and Kari Rosenfeld
Voice: Jo Mariner
References: Alfred Hitchcock's Rebecca (1940); Marcel Proust's In Search of Lost Time (1920); Sands Murray-Wassink's I Want a Constant Orgasm in a Beautiful Body (2010).

Stained-glass: Maya Levy
Metalwork: Oscar Wanless




Special thanks to CAConrad, Cristina Emmel, Eva Fàbregas, Deborah-Joyce Holman, Rebecca Jagoe, Willow Killeen, Kris Lock, Snejanka Mihaylova, Azul de Monte, Iarlaith Ni Fheorais, Kate Paul, Rory Pilgrim, Dylan Spencer-Davidson, Zachary Schoenhut, Sriwhana Spong, Hypatia Vourloumis, Geo Wyeth, Essenburgsingle house, Transsensuality & Transpoetics working group and all transing beings.

Exhibition documentation by Andy Keate and Lou Lou Sainsbury.

Produced and commissioned by Gasworks, with generous support from the Freelands Foundation.