Membering the Night Witches, 15-25 mins, 2020
Single-Channel Video & Live-Performance
On June 12th 1942, the Night Witches received their first baptism by fire. They were injected with the blood of the vampire bat, to see in the dark. They flew in wooden planes. No radar or radios. They had to be magic, they had to be drugged, they must of been. They must of been drugged, or witches, or magic, to see in the dark. They flew without sight, in wooden planes in the night. They were aged 17 to 26, the Night Witches. They dropped 23,000 tonnes of bombs on the fascists. "Be proud, you are a woman."
Weaving an erotic post-human-gothic-fantasy of the all-female Soviet WW2 bomber pilots the 'Night Witches'; the watery film portrays an auto-baptism & fertilisation within the undercurrents of transness, Christian mysticism and radicalising love songs/hymns for impossible queer longing. Membering the Night Witches becomes an embodied fantasy rethinking ecological toxicity, and the figure of the vampire as a potential anti-hero to liberate our toxic selves/cellves. Resonant, discordant, ambient, a sucker for the beat.
To which she/they replies: I am almost human, I am so much more than almost human.
To which she/they replies: I am a woman and I should be proud of how we feed.
To which she/they replies: I am young and born and holding you in me.
To which she/they replies: I LOVE YOU (OR) YOU'RE A PIECE OF SHIT BUT I STILL LOVE YOU
To which she/they replies: Will you fuck me with God's love (or) love me for the love of God?
To which she/they replies: Life + Blood = The Beat."
"Dark things… how did it make you feel?
Wow, did you come into the reception?
So how did you feel now would be the errr, destiny.
BE FREE PREGNANCY YOU'RE PREGNANT WITH DESTINY
Yeah, I'm such a dork.
We're gonna totally get you baptised.
Are you guys ready?
Let's go do this dude, hallelujah, we're gonna do this…"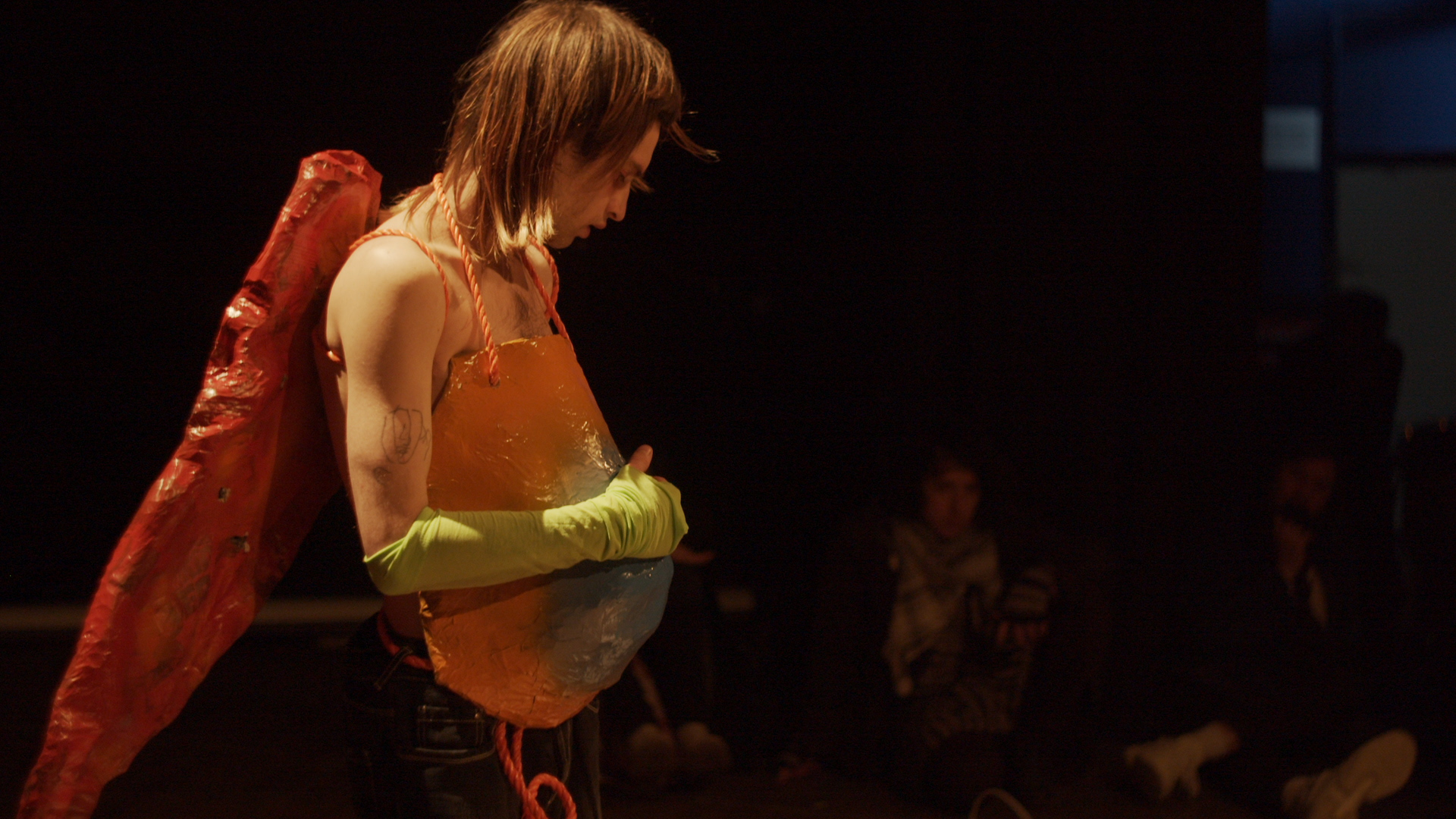 See full script here.

References:

- "Go the way your blood beats." Last Interview with James Baldwin, 1984 / 2016
- Here is Information: Mobilise, Ian White, 2016
- Cabin Man, Cows, Sorry in Pig Minor, 1988
- A Case of You, Joni Mitchell, Blue, 1971
- Bid You Goodnight, Joseph Spence and the Pinder Family, 1965
Single channel video iteration commissioned for 'I fantasize a springtime and cry', La Casa Encendida, Madrid, Curated by Yaby.
Special thanks to Hypatia Vourloumis, Beatriz Ortega Botas, Alberto Vallejo, DAI: If I Can't Dance Then I Don't Want To Be A Part Of Your Revolution, Hattie Pierce, Mia van der Bos, Azul de Monte, Rebecca Jagoe, Aziza Harmel and our Watery Cellves.